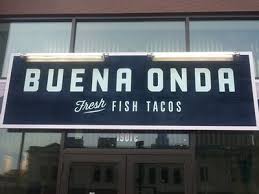 Buena Onda Offers Online Ordering 
Buena Onda is now offering online ordering through their website www.buenaondatacos.com. Orders placed on-line are typically ready in 20 minutes or less for guests wishing to carry-out the Baja-Inspired deliciousness at home, work or wherever the day leads. Guests can also plan ahead for future pick up. Buena Onda continues to offer delivery via Caviar (www.trycaviar.com). The house specialty is fish tacos, featuring Atlantic mahi mahi and jumbo Pacific shrimp. Other favorites include carnitas tacos, chicken tacos and mission-style quesadillas. Fish is fresh, sustainably sourced, and chosen in partnership with seafoodwatch.org. 50 cents from every guacamole and bottled water purchase
will go to the Garces Foundation. Founded in 2012, the Garces Foundation is an IRS registered 501(c)3 nonprofit organization that raises funds to provide Philadelphia's immigrant community access to the care and education they need.
The Fifth Annual Burger Brawl
The Fifth Annual Burger Brawl takes place this Sunday, June 14 from 3:00 to 6:00 p.m. at XFINITY Live! 60+ restaurants will compete to win the title of Best Burger and raise funds to increase literacy through technology for Philadelphia's children. The Brawl funds literacy programming through technology for Philadelphia's underserved children in public elementary schools. The event has raised more than $500,000 in the last four years for the cause. Tickets for the event are $35 for general admission, $100 for VIP. Open to all ages. Free for children 10 and under. Tickets are available at www.phillyburgerbrawl.com
Competitors:
Aldine, Baby Blues BBQ, Bank & Bourbon, Barbuzzo, Bareburger, Beast and Ale, Bierstube, Blue Duck Sandwich Co., Bridget Foy's, Brigid's, Brittingham's, Bru Craft & Wurst, Butcher and Singer, Circles, City Tap House, The Dandelion, Davio's Northern Italian Steakhouse, Dettera, Dog and Bull House, Ela, Eulogy Belgian Tavern, Fat Jack's BBQ,
Good Dog, Harvest Seasonal Grill, Hip City Veg, The Industry, Iron Hill Brewery, Jerry's Bar, JJ Bootleggers, Kildare's Irish Pub, La Peg, Lo Spiedo, London Grill, Lucky's Last Chance, Masters Bar & Restaurant, Misconduct Tavern, New Wave Café, Nick's Roast Beef in Old City, P'Unk Burger, Pacific Prime, Parc, Paesanos, Prohibition Taproom Prime Stache, Red Star Craft House, Rex 1516, Rogues Gallery Bar, Smiths, South Bowl, Spot Burgers, Taproom on 19th, Tredici, Twisted Tail, Village Whiskey, Vintage Wine Bar and Zavala. Rouge and 500 Degrees will participate but will not compete.
CoZara Introduces New 3,4,5 Happy Hour
This week brings a new happy hour menu to CoZara, Chef Zama Tanaka's Izakaya at 33rd and Chestnut Streets. The menu is available Monday-Friday from 4:00-close, downstairs. The outdoor patio on the second floor will remain available for dining only. The menu includes a value-based sipping and snacking menuHappy Hour offered Monday-Friday from 5:00-7:00 p.m. Featuring $4 draft beer, $6 house red and white wine, $8 specialty cocktails and $5 tartines, cheese and charcuterie.
Garces Trading Company
Garces Trading Company completed its transition to a full service, refined, neighborhood Bistro offering the best of Spain, France and Italy.  Chef de Cuisine Kyle Baddorf is offering new brunch, lunch, dinner and happy hour menus effective now. Garces Trading Company originally opened in 2010 as a multi-purpose space with a gourmet market featuring house-made and imported foods sold under the Garces Trading Company label, coffee service to go and the Pennsylvania Liquor Control Board's first wine boutique. The restaurant has evolved over recent years and is now officially the casual, comfortable and chic bistro the neighborhood craves.